This treatment allows the improvement of the silhouette around the level of the belly and waist, the buttocks, the thighs, the inside of the thighs. At the same time it improves the appearance of the skin.
Operation plan1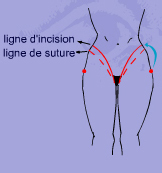 Operation plan2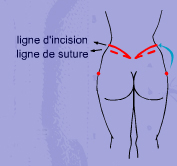 Mark in upright position
The line of the incision starts in the groin area and curves upwards towards the tip of the hips about 2 to 3 cm below the bikini line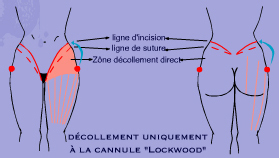 Incision/scar/completely detached zone/zone detached with the probe "Lockwood" only
Mark while standing in a straight upwards position
The incision follows a curved line perfectly connecting with the butt seam, about 2 to 3 cm below the bikini line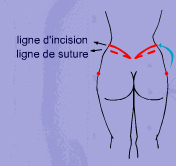 Treatment
Liposculpting allows the remodeling of shapes to create a new silhouette.
We use a technique called lipo-aspiration. The surgeon inserts a fine canulla below the skin by means of mini-incisions (4 à 5 mm). This way excess fat and cellulites are sucked away in a precise and esthetic way.
Zones
Upper leg-"saddlebags"
Inside of the thighs
Thighs-buttocks
Belly-knees-ankle
Arms-waist-calves
Throat-inside of the thighs
Anesthesia
neuroleptanalgesia:
sedatives:
local anesthesia:Xylocaïne
Methylene blue / standing upwards
Before / after
The importance of liposculpting in the improvement or preservation of the natural line of the buttocks.
Extreme Lifting - Report RTL-TVI

During the first consultation the patient can clarify his or hers desires and the surgeon will explain what kind of results you can reasonably expect. The surgeon will also provide detailed information about the desired treatment.
Y
ou must operate, but not create sequelae. It is necessary that the hair does not retreat, that the ear does not leave forward, that the lobe is not deformed, that there is no tension. For a facelift to be visible, we must not see the after-effects. There is facelift and facelift …
(..) In general, the follow-up is at least six months. We have an interest in operating perfectly! It is an obligation of quality.
(Interview with Dr. Louis-Philippe Dombard. ELLE BELGIQUE. N°29. Janvier 2006. p. 15. "Surgery Everything you can do without general anesthesia.").