Member of the German association for plastic and esthetic surgery.
Member of the French association for esthetic surgery.
Member of the Belgian association for esthetic medicine.
Honorary teacher of the Spanish association for esthetic surgery.
Ex-student of Ivo Pitanguy(Rio de Janeiro- Brazilië) 1985-1987.
Current activities
Head of the private clinic for plastic and esthetic surgery.
President of the Belgian association for pure esthetic surgery.
nose reconstruction, esthetic nose surgery (rinoplasty), breast augmentation (implants), breast reduction, breast lift, pectoral implants, esthetic surgery of the eyelids and bags below the eyes (blefaroplasty), facelift, neck lift, eye lift, mini lift, protruding ears (otoplasty), body lift, lifting of the arms, liposculpting (double chin, arms, abdomen, belly, waist, hips, back, buttocks, thighs, knees, calves, ankles).
Ordentliches Mitglied der DGPRÄC – Deutsche Gesellschaft für plastische, rekonstruktive und aesthetische Chirurgie
Education
Title of doctor in medicine, surgery en obstetrics. Katholieke Universiteit van leuven.
Title of licentiate in dentistry. Faculty of dentistry.
General surgery, fulltime, under direction of Dr. B. Hublet
Education overseas
Middlesex Hospital in London
Departement of tumors of Mrs. Dr. Snelling, Director of the Meyerstein Institute of Radiotherapy.
Klinikum der Albert-Ludwigs-Universitaet
Zentrum Zahn-Mund – und Kieferheilkunde
Freiburg in Breisgau – R.F.A.
Äerztlicher Direktor: Prof. W. Schilli
Pontifica Universidade Catolica do Rio de Janeiro
Departemento de chirurgia Plastica- Brazilie
Under direction of prof. Ivo Pitanguy
Member of the alumni of Ivo Pitanguy
Ivo Pitanguy European Surgical Association – Plastic Surgery
Dreifaltigkeits-Krankenhaus Wesseling ( Allemagne)
Chefartz: Prof. N. Olivari – Dr. D. Richter.
Abteilung für Plastische Chirurgie.
AECEP Meeting November 2018 – International speakers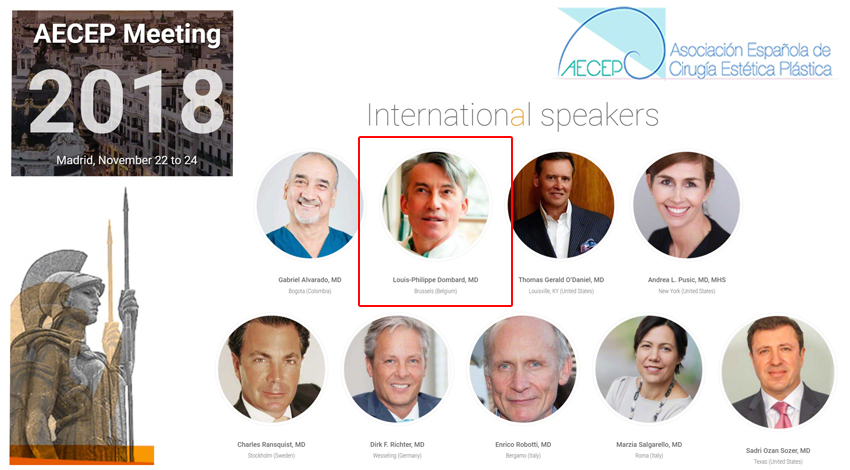 At the Congress of Aesthetic Surgery of Madrid 2018, Dr. Dombard presented (International speakers):
Tip remodeling to rotate the lower nasal third.
Managing the fronto-nasal angle. Osteotomies.
Secondary noses; techniques of reconstruction.
Rotation scalp front lift and mid-face.
Periorbitary dermofat grafts and mid-face.

Titre
: Cosmetic Surgeon Specialist, Plastic surgeon specialist
Traitements
: Cosmetic surgery, Plastic surgery, Resumption of cosmetic surgery
Méthodologies
: First consultation, Operating plan, Post-operative care, Surgical treatment
Formations
: Plastic surgeon specialist
Clinique
: Gemslaan 42b – 3090 Overijse – (Brussels) Belgium